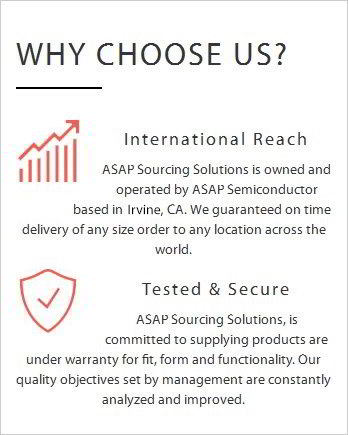 Contact Us
We are proud to supply every branch of the United States military
If you have more than one items, you can also send us your part number list (Spreadsheet) by uploading your list here.
Upload
Top National Stock Numbers
Top Aircraft Parts Manufacturers
Get A Quote for S807GAP Aviation Part Number by Siemens Demag Delaval with NSN 3120003392481
We are happy to inform you that Part Number S807GAP by Siemens Demag Delaval described as Bearing Sleeve, is currently in stock. ASAP-SourcingSolutions.com - an ASAP Semiconductor owned website provides 24/7 x 365 day service to help professionals in the aerospace and aviation industry to source aftermarket spares.
We have also listed parts related to Part Number S807GAP, NSN 3120003392481, CAGE Code 16712 and or MFR Siemens Demag Delaval below. Please feel free to browse our site to find other parts under FSC 3120 Bearings Plain Unmounted. We supply expendable parts as well as ratable parts for civilian and military platforms. With over 5000 manufacturers and over 10 million parts, we are your one stop purchasing resource.
All rfqs are answered within 15 minutes by a live dedicated account manager 24x7/ 365.
---
Please Fill Below Form To Get Instant Quote For S807GAP

Required Fields Compulsory *
Thank You for Submitting Your RFQ for Part Number S807GAP by Siemens Demag Delaval
You can mail us your Bill of materials (BOM) in excel format to sales@asap-sourcingsolutions.com. Our customers are always a priority. Please feel free to call us on our toll-free number +1-412-212-0606 for your query on Part Number S807GAP by Siemens Demag Delaval at any time of the day. To know more about our products, please visit our website asap-sourcingsolutions.com or download the ASAP Semiconductor mobile app from Google Play Store.
3120-00-339-2481, 3120003392481 (S807GAP) NSN Information
NSN
FSC
NIIN
CLS
Hazmat
DEMIL
Cancelled NSN
3120-00-339-2481

Item Description:

Bearing Sleeve

3120
003392481
0
N
CIIC
HCC
ESD
PMIC
Criticality
ENAC
U
U
Part Number
ISC
RNVC
RNCC
HCC
MSDS
SADC
S807GAP
2
2
3
3120-00-339-2481, 3120003392481 Characteristics Data
| MRC | Criteria | Characteristic |
| --- | --- | --- |
| ABHP | OVERALL LENGTH | 2.2500 INCHES NOMINAL |
| ADAR | BODY OUTSIDE DIAMETER | 3.2500 INCHES NOMINAL |
| ADAS | BODY INSIDE DIAMETER | 1.3755 INCHES NOMINAL |
| ADZG | LUBRICATION MATERIAL | LUBRICANT, MANUFACTURERS STANDARD |
| AEPR | FLANGE OUTSIDE DIAMETER | 6.3755 INCHES NOMINAL |
| AGFF | FLANGE WIDTH | 0.7500 INCHES NOMINAL |
| AGKH | LUBRICANT ACCOMMODATION STYLE | GROOVED SPIRAL CIRCULAR |
| BZLX | CORNER SHAPE | CHAMFERED OUTSIDE RIGHT CORNER |
| BZLX | CORNER SHAPE | SQUARE INSIDE LEFT CORNER |
| BZLX | CORNER SHAPE | SQUARE INSIDE RIGHT CORNER |
| BZLX | CORNER SHAPE | SQUARE LEFT FLANGE BODY CORNER |
| BZLX | CORNER SHAPE | SQUARE LEFT FLANGE OUTSIDE RIGHT CORNER |
| BZLX | CORNER SHAPE | SQUARE OUTSIDE LEFT CORNER |
| CSYM | SURFACE FINISH | 125.0 MICROINCHES LEFT END SURFACE OF BODY AND FLANGE |
| CSYM | SURFACE FINISH | 125.0 MICROINCHES RIGHT END SURFACE OF LEFT FLANGE |
| CSYM | SURFACE FINISH | 250.0 MICROINCHES RIGHT END SURFACE OF BODY |
| CSYM | SURFACE FINISH | 63.0 MICROINCHES INSIDE DIAMETER SURFACE OF BODY |
| CSYM | SURFACE FINISH | 63.0 MICROINCHES OUTSIDE DIAMETER SURFACE OF BODY |
| CSYM | SURFACE FINISH | 63.0 MICROINCHES OUTSIDE DIAMETER SURFACE OF FLANGE |
| MATT | MATERIAL | COPPER ALLOY 964 OVERALL |
| STYL | STYLE DESIGNATOR | SOLID, EXTERNAL FLANGE ONE END |
Relevant Components to S807GAP